---

Your Starting Line-Ups
Posted December 9, 2013, 9:57 AM ET
The college football bowl line-up is set....get ready for the start of 35 bowl games as we head to Pasadena.
The most important post-season game is the BCS national championship game, and this year it is of the Southern Fried Football™ variety as Florida State & Auburn play for the crystal.
The Noles have been blowing everybody out and they will play a team of destiny in the Auburn Tigers.
We all remember the miracle win against Georgia and the greatest college football ending in a staggering victory against Bama.....Auburn has been lucky and good.
Thanks to Michigan State's win in the Big Ten championship game over previously #2 ranked Ohio State, the Auburn Tigers said "thank you, very much", and moved over the Buckeyes and right into the BCS title game.
I'm looking forward to being out in Pasadena for the game and festivities......I'll be hosting our SiriusXM show from California.
I stated after FSU's destruction of Clemson back in October that the Noles were the best looking team that I've seen in person....nothing has changed since the trip to Death Valley.....I like FSU to close out the BCS era with a win in the final BCS title game.
---
I love college football, but I don't like what the sport turns into during the post-season.
There are too many games involving too many "OK teams".......Next year we add even more garbage as the bowl game total jumps to 39 games.
If I were in charge of college football, there would be a couple of changes I'd make to the post-season:
1) I would allow every school in America the luxury of additional practices in December. I wouldn't limit it to bowl teams that get the extra benefit....everybody should have the ability to practice, if schools want to take advantage of the opportunity.

2) I would eliminate the policy that bowl games force schools to buy a guaranteed amount of tickets. Why should the schools be held hostage if their fans either don't want to go, or can buy cheaper tix at other online outlets?

If a bowl game can't exist without the guaranteed ticket revenue from the schools, then the bowl should shut down their operation.

Last year, mighty Alabama fell short of selling their guarantee to the BCS title game by 2,000 tickets.....it cost the school 750,000 bucks. It is ridiculous.

3) I would make January 1st special again.....there are too many wannabe bowls playing on or after January 1st. Just my two cents.....
There are roughly a dozen bowl games this year that I look forward to watching.....the other 23 bowls can be added to the holiday fruit cake.
Ironically, once you separate the 5 BCS bowls.....there are only 4 match-ups of ranked teams in the remaining 30 non-BCS bowls.....that's pathetic.
One more note....props to the ACC for making history. The conference is the first to ever place 11 teams in post-season bowls....not even the SEC can lay claim to that one...
"Packman on Sports" premiered in August of 2004, and you can catch Pack's latest sports rant every night, Monday thru Friday, on WMYT's 10pm newscast. You never know what might be the hot topic or the focal point of Packman's diatribe.....but you can bet that it will be sponsored by Bojangles', and there will be no shortage of sports topics as can be delivered only by the Packman.
If you'd like to check out the archives or take a sneak-peek into tonight's commentary, be my guest...
"Packman on Sports", sponsored by Bojangles' and heard exclusively in Charlotte on myTV12.
"Packman on Sports" is proudly presented by our friends at Bojangles'

See the coed pictures we take each week on our Southern Fried Football™ tour on this page...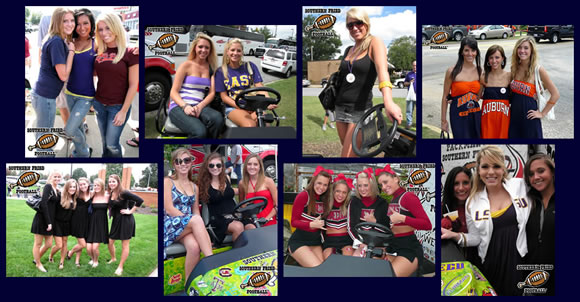 ---

For a week-by-week look at the diminishing returns of Stewart-Haas Racing's #10 car, click here...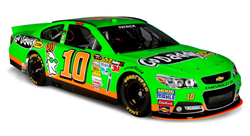 ---

Our daydreaming this month has us begging the critical question: "Is she, or isn't she?" ...Is this girl nude under her skirt?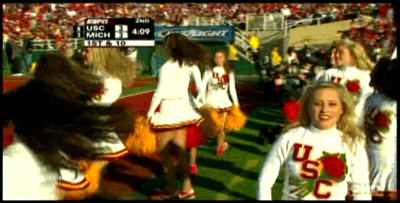 Would this bright, young coed knowingly go on national television without being dressed appropriately? Was Michigan's shoddy performance due to a full moon over the Rose Bowl? Go to our Daydreaming section to find out!
---

There are 118 professional sports franchises that have been competing for at least ten years. Only one team has failed to record back-to-back winning seasons. Our beloved Carolina Panthers are looking to snap that streak, along with this other, ongoing problem:
The Panthers' last playoff win came against the Chicago
Bears on January 15, 2006...so, that means it has been

since the Panthers' last post-season victory.
Hopefully, it doesn't take the Panthers 13 years to win their next one...like it did for the Dallas Cowboys!
---

For technical issues regarding this site, contact the webmaster.