---

May Day
Posted May 19, 2013, 7:39 AM ET
I tried to watch the NASCAR All-Star event, and it turned into another giant yawn.
This event is as tired and predictable as watching the hype for the next Triple Crown winner in horse racing (more about that later).
Of course there were three absolute guarantees about NASCAR's big night:
1) The pre-race introductions would look like an extension of a Ringling Brothers and Barnum & Baily act.
2) Danica Patrick would win the fan vote, despite sucking her entire racing career.
3) Jimmie Johnson would flip a switch in the last segment and win again.
I've been thinking about what the sport should do to fix NASCAR's All-Star race. I used to believe it was the best all-star event in sports, but not anymore. The lure of a million bucks to the millionaire driver has lost its "wow factor".
The multiple segments offer no suspense or intrigue except for the last few laps.
Judging by all the empty seats around the track at Charlotte Motor Speedway, I wonder just how many people really care about watching this winner-take-all race?
If NASCAR is going to rig the fan vote just so they can find a way to include Danica, then they should really showcase her talents.
Here's what NASCAR should do next year.
Take the Top 10 drivers in the standings leading into the Charlotte festivities.
Give Danica Patrick a half-lap lead over each driver. One by one, the driver has to catch and pass Danica....and the one that passes her the quickest wins the million bucks. I'm assuming with only two cars on the track, she will be less likely to wreck into somebody and it is inevitable that she will be lapped.
Using my "All-Star" system, everybody wins....Danica & NASCAR get their exposure, the best drivers of the year to date get to race without going 90 laps in 3 hours....and Jimmie Johnson can pick up another 7-figure check.
Plus, Danica can get out of the car afterwards while being booed by the fans and tell us that she was real close to winning a NASCAR race.
---
I guess we can put away "The last Triple Crown winner was Affirmed in 1978" line for another year.
After watching Orb win the Kentucky Derby, the last two weeks every horse racing insider has been touting that this is the year that we can finally land another Triple Crown winner.
Even the talking heads on NBC were all in agreement that the Preakness was a forgone conclusion for Orb and the buildup to the Belmont would be tremendous.
I watched the race.
Orb had as much of a chance to win the Preakness as Danica had to capture the million bucks at the All-Star race in Charlotte.
Instead of Orb, it was Oxbow.
The huge sigh you heard were the TV executives and horse racing enthusiasts that realized that the Belmont Stakes would have ratings as high as the new NBC Sports Network....or maybe even the women's softball tournament on ESPN.
I would say the horsepower weekend in Charlotte and Baltimore left me a little disappointed...
"Packman on Sports" premiered in August of 2004, and you can catch Pack's latest sports rant every night, Monday thru Friday, on WMYT's 10pm newscast. You never know what might be the hot topic or the focal point of Packman's diatribe.....but you can bet that it will be sponsored by Bojangles', and there will be no shortage of sports topics as can be delivered only by the Packman.
If you'd like to check out the archives or take a sneak-peek into tonight's commentary, be my guest...
"Packman on Sports", sponsored by Bojangles' and heard exclusively in Charlotte on myTV12.
"Packman on Sports" is proudly presented by our friends at Bojangles'

See the coed pictures we take each week on our Southern Fried Football™ tour on this page...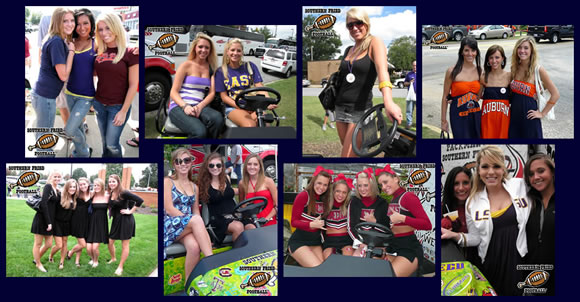 ---

For a week-by-week look at the diminishing returns of Stewart-Haas Racing's #10 car, click here...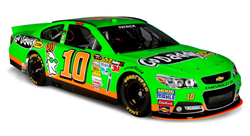 ---

Our daydreaming this month has us begging the critical question: "Is she, or isn't she?" ...Is this girl nude under her skirt?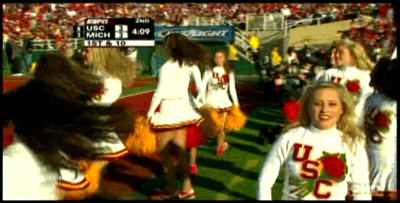 Would this bright, young coed knowingly go on national television without being dressed appropriately? Was Michigan's shoddy performance due to a full moon over the Rose Bowl? Go to our Daydreaming section to find out!
---

There are 118 professional sports franchises that have been competing for at least ten years. Only one team has failed to record back-to-back winning seasons. Our beloved Carolina Panthers are looking to snap that streak, along with this other, ongoing problem:
The Panthers' last playoff win came against the Chicago
Bears on January 15, 2006...so, that means it has been

since the Panthers' last post-season victory.
Hopefully, it doesn't take the Panthers 13 years to win their next one...like it did for the Dallas Cowboys!
---

For technical issues regarding this site, contact the webmaster.